HughesNet Tools®
America's #1 Choice for Satellite Internet – Available Where You Live!
HughesNet Tools For The Best Online Experience:
While HughesNet® connects you to the world, applying additional tools can further improve your overall service. Some tools are automatically applied to your plan such as SMARTFetch, SmartCompression, SmartResources, and on some plans SmartBrowsing, but they're additional tools at your disposal. Lets take a look into all of these!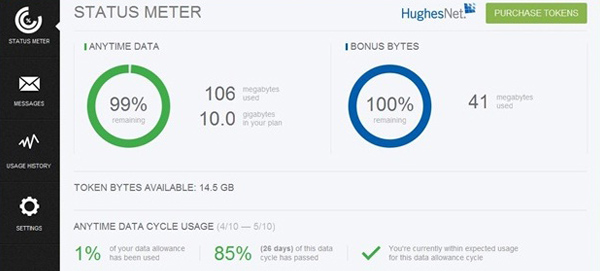 Schedule large downloads to start during the Bonus Zone (2am-8am) period.
HughesNet Status Meter:
HughesNet's status meter works like a fuel gauge for your data allowance. It constantly monitors how much of your allowance you have used as well as how much data you have remaining in your usage cycle.
Tracking both your anytime and Bonus Zone data (2am-8am) will allow you to plan for your most optimal online usage for the 30 day cycle. You may also view your usage history in one week, two week, 30 day, and 60 day increments.
The status meter can be downloaded for free on both Windows and OS operating systems, and the only requirement for use is high speed satellite Internet from HughesNet. You can download the meter by clicking here and selecting the operating system you are using in the top right box.
HughesNet Restore Tokens:
The status meter above should help you pace how you use you data allowance per cycle, but its possible in some cycles you will surpass your allowance. A common myth is at this point you will no Internet connection, but this is false as your Internet just becomes throttled which allows for browsing and sending/receiving emails. The throttled speed will be approximately 150kbps.
If you would like to restore your everyday speeds you have the ability to purchase "restore tokens". Restore tokens will instantly restore you to full speeds and can be purchased in the following increments: 3GB for $9, 5GB for $15, 10GB for $30, and 25GB for $75.
You can add restore tokens to your account by clicking the green "purchase tokens" button in the top right corner of your status meter, or by clicking here, and entering your SAN and zip code.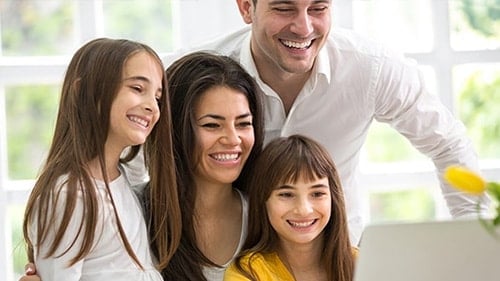 Buy Restore Tokens for extra data.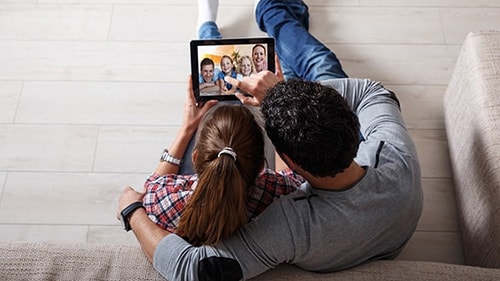 Track your anytime and Bonus Zone (2am-8am) data.
Download Manager:
With Bonus Zone (2am-8am) accounting for 50 GBs of free cycle data, its highly recommended to utilize as much of this as possible to save your anytime data for when you really need it. While many people are asleep during the Bonus Zone (2am-8am) hours, it is possible to schedule downloads using "download managers", which wait until a specified time to start.
Schedule your larger files that are not immediately needed such as software updates, videos, and music to download while you sleep. When you return to your computer your files will complete and your anytime data will be untouched!
Depending on your computer/preferred web browser you have a few options for download managers. For example if using Mozilla Firefox we recommend to use Download Scheduler 2.5.2, and if your using Mac OS X we recommend Progressive Downloader.
HughesNet SmartTechnologies
SmartTechnologies come free with your HughesNet plan and consists of four tools – SmartFetch™, SmartCompression™, SmartBrowsing™ and SmartResources™. Collectively these tools work together to efficiently compress data, speed up your download speeds, and create an overall better online experience for you.
SmartFetch: speeds up website loading time by reducing the number of "hops" that is needed to retrieve site content.
SmartCompression: shrinks website data by up to 30 percent so HughesNet users can download more content and use less of their data allowance.
SmartBrowsing: this allows users to continue to browse the web and email even after their monthly data allowance has been exceeded. *Not avaible on all service plans.
SmartResources: allows users to be in full control of their data allowance. The status meter displays used and avaible data, as well as notifies the user when SmartBrowsing has kicked in.